心理学家卡尔·荣格说过,"对于普通人来说,一生最重要的功课就是学会接受自己。"于我而言,艺术学习和创作给我带来的,不仅是看待世界的全新视角,更是向内寻求自我的契机。留澳四载,硕士毕业一年的如今,从懵懂到笃定,从激烈到平和,我的艺术创作,就像是一本并非按时间线重写的日记,让我一点点开启探寻内心世界的漫长旅行。
这次分享会,更像是我在这个时间节点对过去四年的梳理。我会讲述自己海外留学和艺术驻留的经历,探讨自己的艺术创作理念,也会分享申请艺术驻留的经验方法。
期待你来听我的故事。
教育背景︱Educational Background
2014 毕业于山东师范大学摄影系 获学士学位
2014 Bachelor of Arts (Photography), Shandong Normal University
2018 毕业于皇家墨尔本理工大学纯艺术系 获硕士学位
2018 Master of Fine Art, RMIT University
王忱生长于山东济南,求学并定居于澳大利亚墨尔本。她结合自身经历与多元文化生活背景,尝试创作能跨越文化差异和语言障碍,与观者产生情感共鸣的作品。王忱的作品探讨了如何在视频艺术中重新体验个人内在的情感和记忆,将他们放在公共语境下与别人分享;与此同时,她借用在创作中以旁观者的视角审视内在自我的契机,帮助自己确认自我存在感和价值,进而获得持续创作的动力。在目前阶段,王忱作品的主题多与 "家,家庭,个人记忆"相关,致力于表达成长过程的"非典型"经历对当前生活的深远影响,以及身为千禧一代在中国当代文化与社会语境中面临的自身价值认同和归属感的困境。
Wang Chen was born and grown in China, studied in Australia since 2015, and settled down in Melbourne. Wang Chen creates emotionally resonant artworks that extend beyond language or cultural barriers based on her multi-cultural background. In Chen's video works, she examines various methods of re-experiencing her internal emotion and memory and shares them in the exhibiting context. At the same time, Chen confirms the self-consciousness by observing herself from the perspective of a bystander while making artworks, thereby gaining the power of continued creating.
At the present stage, most of the works Wang Chen produced related to her family, home, or personal memory. In her artworks, Chen explored the impact of her "untypical" growth experience to her current life. She as well as examined the predicament of the sense of identity, belonging, and own value, often faced by Chinese millennials in the contemporary Chinese context.
展览经历︱Exhibitions
2019年
"人为刀俎"个人作品微型展览,Alternating Current Art Space,墨尔本 (12月开启)
"多元都市"专案开幕之夜,澳华博物馆,墨尔本
2018年
皇家墨尔本理工大学艺术学院毕业展,皇家墨尔本理工大学,墨尔本
热带实验室12:感觉, Brother Joseph McNally 展览馆,新加坡
2019
We Are Fishes On The Chopping Block, Alternating Current Art Space, Melbourne Australia (upcoming)
Multifunction Polis Opening Night, Chinese Museum, Melbourne Australia
2018
Graduation Show of School of Art, RMIT University, Melbourne Australia
Tropical Lab 12: Sense, Brother Joseph McNally Gallery, Singapore
艺术驻留经历︱Art Residency
2019年
十方艺术中心,中国重庆(8月开启)
2018年
作为皇家墨尔本理工大学澳洲地区校区代表,参加由新加坡拉萨尔大学主办的艺术驻留专案"Tropical Lab 12: Sense",驻留时间为15天。
2019
Dimensions Art Center, Chongqing China (upcoming)
2018
Participating in the art residency Tropical Lab 12: Sense hold by Lasalle University in Singapore as the representative of the Melbourne campus, RMIT University.
获奖经历︱Honors and Awards
2019年
《鱼》、《我的弟弟》获Channels Festival 国际视频艺术双年展入围奖
2019
"Fish", "My Little Brother" - Channels Festival: International Biennial of Video Art - Finalist
关于本次创作计划︱About this Residency Plan
《丢失的一味》(暂名)
The Lost Flavor
在此次駐留中,我計畫製作影像《丟失的一味》。作為一個耐辣程度極差的人,我將以重慶的標誌"辣"為切入點, 以戲謔的視角訴說一個不能吃辣的人在如今辣味占主流的飲食文化中與朋友們的"格格不入",去探尋辣味如何成為自己成長中缺失的那一味——我不吃辣的原因,回溯母親在我成長中單方面為我塑造的飲食習慣。我將從個人角度出發,探究食物在成長中為自己帶來的喜悅和失落,進而探討中國孩子成長中父親角色典型的缺席狀態。
I plan to create video work The Lost Flavor. I will focus on the spicy food, which is the symbol of Chongqing city, as a people who cannot eat food spicy. I want to discuss the feeling of incompatible with my friends absurdly when we were ordering in the restaurant, just because I don't eat hot food. I moreover want to explore my dietary habit formed by my mother. This work will center around my happiness and sadness brought by food, further to explore the father's absent in typical Chinese children growth.
《恐高症》(暂名)
Acrophobia
在《恐高症》中,我将以重庆独特的地理特征和著名的长江索道为引子,以"俯瞰重庆"的影像与九龙坡区老街的影像结合,回忆我的童年,以及父亲带幼时的我乘坐济南千佛山索道的往事,探讨以孩童的身份意识到生命本质的孤独和离散的残酷性,和对未知的恐惧,以及安全感的消失。
In my work Acrophobia, I will utilize the unique mountainous geographical features of Chongqing and famed landscape in Chongqing: Yangtze River Cableway, connecting with my memory, recalling my father bringing me to take the ropeway in my hometown Jinan when I was a kid. I plan to take the moving images of taking Yangtze River Cableway, assisted with street views of old streets in Jiulongpo area in my video. This work is to exam how I became an adult having acrophobia, as well as the disappeared sense of security, and I realized the cruelty and loneliness of the essence of our life, as a child.
以往作品介绍︱Introduction to Previous Works
《独居动物》 Solitary Animal
2019, 2-channel Video, 02:09
《独居动物》表现了王忱一直以来极其简单的,如同隐士一般的生活状态,是她内心世界的真实写照。影片用冷静的镜头语言展示了一个几乎没有社交生活,深居简出的"独居动物"的日常,和她如同那些寂静的风景一样孤独却丰富的内心世界。
The two-channel video Solitary Animal represents Wang Chen's life of "a solitary animal." It shows Chen's daily life with few socializing via the mild film language and implies her lonely, yet prosperous inner world by poetic existed footages.
《鱼》Fish
2019, HD Video, 02:39
王忱于2019年创作的《鱼》为其研究生毕业后的第一支作品。王忱在《鱼》中以其一贯的肢体表演和风格化强烈的色彩表现,以中国鱼市常见的塑胶袋中待宰杀的活鱼为灵感来源,展现了自己离开象牙塔后,在现阶段身为艺术家的生活状态:困苦,挣扎,枯竭以及"我为鱼肉"的无力感。
Wang Chen's video work Fish is her first artwork after graduating from Mater of Fine Art. Chen aims to use her unique performance and stylized hue of imagery representing her hardship of being an artist in the "real world" at the present state of life, namely financial difficulty, wither of inspiration and having no autonomy at the workplace. The inspiration of Fish is from an ancient Chinese saying "being fishes on the chopping block (人为刀俎,我为鱼肉)," as well as the living fishes sold in plastic packages in Chinese fish market, for people who want to enjoy freshly making.
《我的弟弟》My Little Brother
在这部作品中,王忱将家庭录影带风格的影像和表演艺术结合,用软体将自己的声音模拟成"弟弟"的电话录音,用智能手机软体虚构了家庭录影带。在中国计划生育已经被废止的语境之下,王忱用非常个人化的视角展示了在计划生育政策下出生的中国千禧一代孤独成长的经历,以娓娓道来的叙事方式代替批判和评论;同时,她也隐晦地探讨了在特定时代环境下不可抗拒的个人命运。
In My Little Brother, Wang Chen simulated the "younger brother's" voice by her voice using software and shot the VHS style footage by an application on her smartphone. By exploring a narrative approach instead of judgment and criticism through combining the VHS style imagery and performance, Wang Chen represented the lonely growth of China's millennial generation born in the 1990s under the One Child Policy, which has been abolished in the present context, also implicitly explores the irresistible individual destiny in specific political environments.
《都是假的》They All Fake
2018, HD Video, 03:07
不同于中国习俗与文化中对于春节"阖家团圆"的描述,王忱基于自身的独特经历,用表演和真实的影像结合,表现了略显阴暗的春节记忆。
Being different from the description of the Spring Festival in Chinese folk, Wang Chen showed her antipathy of the Spring Festival by mixing her exaggerated performance, uneasy red lighting and real media archive of Chinese Spring Festival Gala in her video, based on her own memory.
在《秘密》中,王忱面对镜头独自表演和讲述,如同面对一面镜子,也如同直面观者。她回溯了年少的自己在毫无准备的情况下,遭遇成人世界的动物性而形成的创伤。王忱在《秘密》当中有三个形象:秘密的讲述者,秘密短信的秘密接受者,以及因承受秘密而受创伤的自我。通过三个身份的交错,王忱用并不尖锐却令人隐隐不适的方式,揭示了人类的动物本质,以及生活美好表面下的残酷真相。
Wang Chen recalled her traumatic memory of the first conscious of adults' animality in her video Secret. In this video work, Chen represents three identities via performance and monologue: the storyteller, the receiver of the text message, and her traumatic inner self. She faces the camera as if facing a mirror, as well as facing up to the audience directly. By showing the three figures, Chen revealed the nature animality of human and the brutal reality under the surface of the beautiful life.
点击上面图片
了解"城市记忆"板块介绍
Click above to know about the Introduction of "City Memory" Section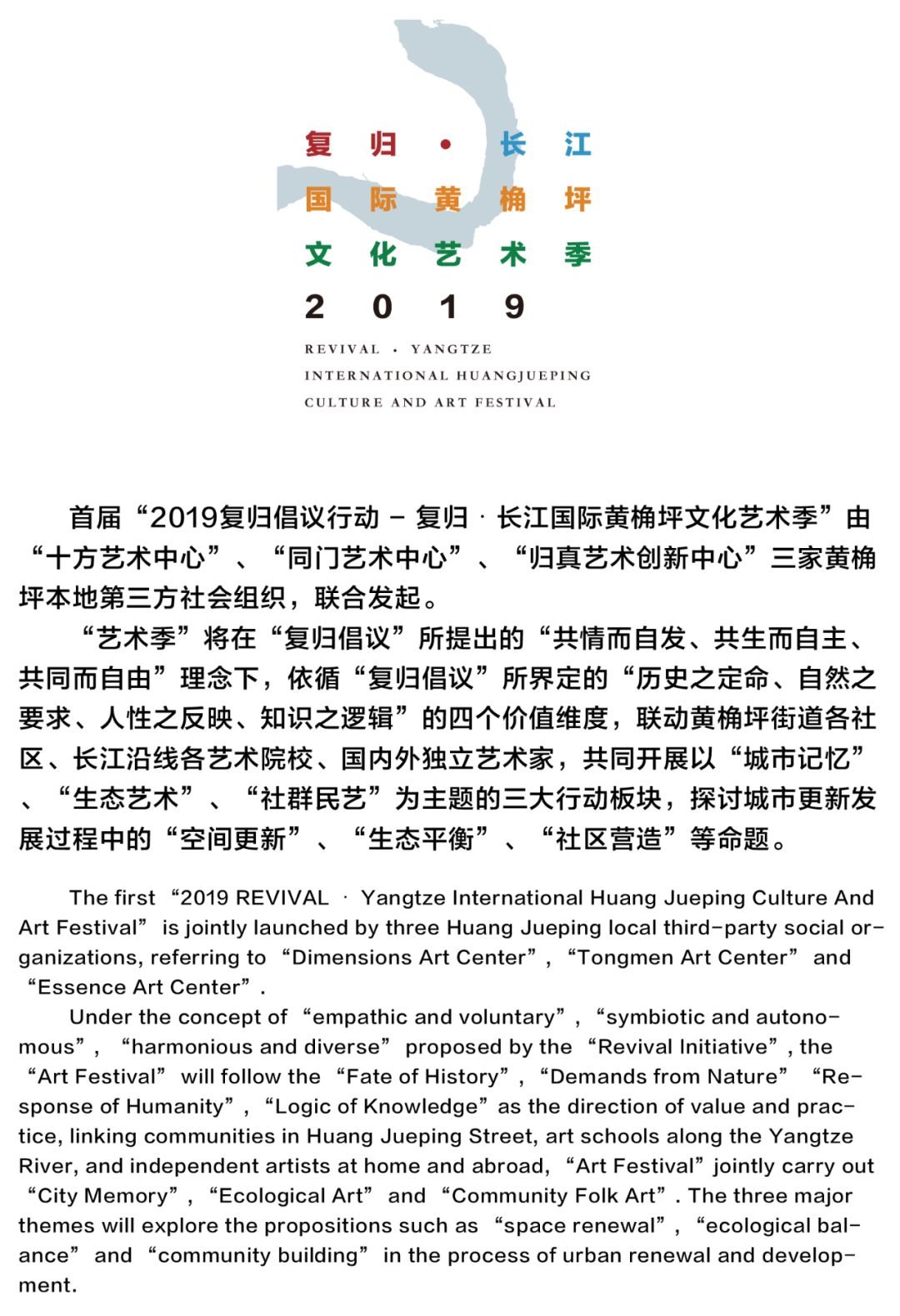 点击上面图片
了解本次艺术季
Click above to know about REVIVAL·Yangtze International Huangjueping Culture and Art Festival
点击上面图片
了解:复归倡议REVIVAL
Click above to know about REVIVAL