《十方藝術中心2019年鑑》|"DIMENSIONS ART CENTER YEARBOOK 2019"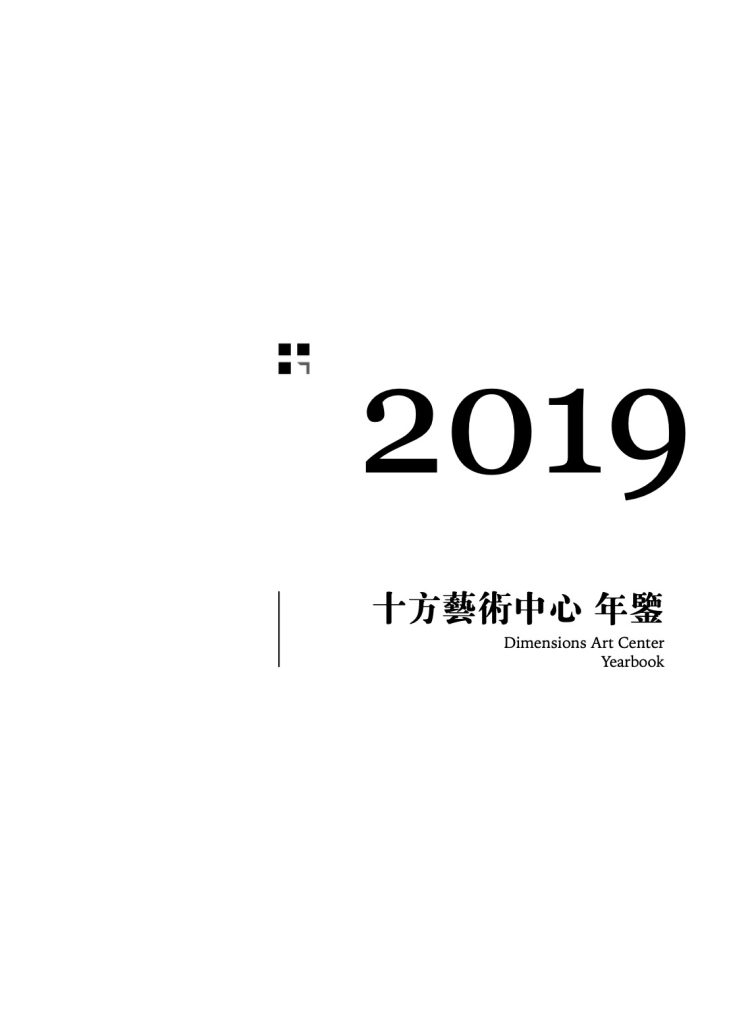 2019年較之2018年,十方取得的、可量化的顯著成果主要有以下幾點:
在學術研究方面,十方進一步理清藝術進入社會現場的根本邏輯為「回基本」,協作機制為「自發·自主·自由&共情·共生·共同」,在此基礎上,出版《回基本》專著、與各方同道共同輸出「復歸核心理念」、撰寫《社區公共藝術與社區營造》專篇文章;
在本體社群構建方面,我們共為17名跨媒介藝術家提供了全面的駐留服務,較之2018年增幅30%,他們來自韓國、加拿大、印度、美國、意大利、德國、法國、阿根廷、中國等共計9個國家;在創研平台中,新增工作室有:SENSE 健康管理工作室、知書學堂藝術教育工作室、戴小兵攝影藝術工作室、之一空間、三十二間咖啡館、漫邸空間設計工作室、絡影藝術工作室、遠山近水雕塑工作室、長江博古古董鑒賞工作室、田師傅傳統木藝工作室、NOON 珠寶銀器工作室,共計11個,較之2018年增福110%;在志願者團隊的搭建上,共計24位志願者為十方貢獻50余次服務,服務總時間為194小時;新邀2位專家學者,正式加入「顧問團」;
在專題實踐方面,累計舉辦小型展覽講座分享會共計60余場,領域媒介涉及繪畫、舞蹈、音樂、裝置、文學、書法、實驗影像、公共美育、非遺民藝、城市更新、鄉村振興等各個面向;大型綜合類「藝術與社會項目」4場,大型項目涉及政府部門、社會組織、企業單位、高校、普通公眾、個體專家學者、個體藝術工作者等多類群體的共同合作;
Compared with 2018, the achievements of Dimensions Art Center in 2019 are as follows:
In terms of "Academic Research," Dimensions Art Center has clarified that the fundamental logic of "Art&Society" is "Back to the Origins," and the collaboration principle is "Empathic and Voluntary, Symbiotic and Autonomous, Harmonious and Diverse." On this basis, DAC published the monograph "Back to the Origins," compose the idea of "REVIVAL Initiative," and an article named "Community Public Art and Community Cultivation" together with all parties participated.
In terms of "Art Community Cultivation," we provided 17 cross-media artists with residency services, an increase of 30% compared to 2018. They were from South Korea, Canada, India, the United States, Italy, Germany, France, Argentina, And nine countries, including China. In Cultural Innovation & Research Project (CIRP), new studios include SENSE Health Management Studio, Zhishu Art Education Studio, Dai Xiaobing Photography Art Studio, One Space, 32 Cafes, Mandi Space Design Studio, Luoyang Art Studio, Far Mountains and Near Water Sculpture Studio, Yangtze River Ancient Antique Appreciation Studio, Tian Shifu Traditional Wood Art Studio, NOON Jewelry and Silverware Studio, a total of 11, compared with 2018 An annual increase of 110%. In the establishment of the "Volunteer Team," a total of 24 volunteers have contributed more than 50 services to DAC, with a total service time of 270 hours. 2 new experts and scholars have been invited to join the "Consultant Group."
A total of more than 60 small-scale exhibition lectures and sharing sessions have been held in terms of the "Project-based Practice," the fields and media involve painting, dance, music, installation, literature, calligraphy, experimental video, public aesthetics, intangible cultural heritage, urban renewal, rural revitalization, etc.; 4 large-scale "Art and Society Projects," involving government departments, social organizition, enterprises, universities, the general public, individual experts and scholars, individual art workers, and other groups of cooperation.