《復歸倡議 2019》|"REVIVAL 2019"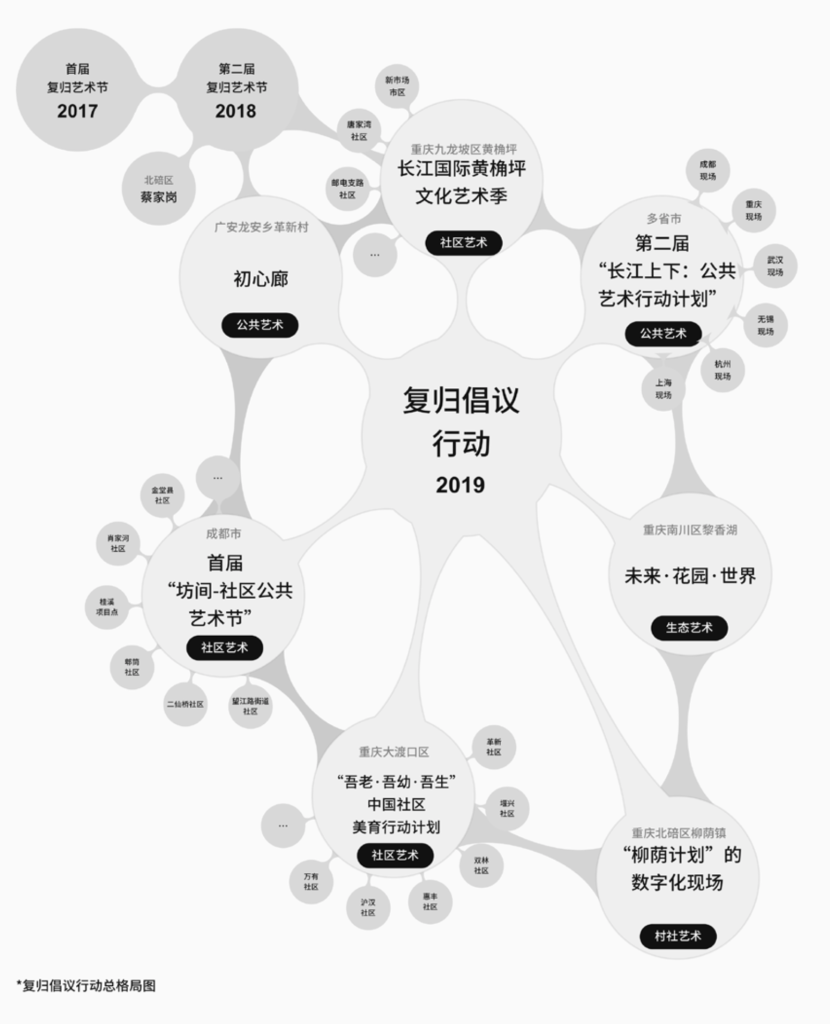 復歸是由致力於民間之精神振興,社群之生態更新的第三方社會組織、事業單位、學術機構、個體同志聯合發起的知識自律反思的理念倡議;復歸也是文化藝術復歸鴻蒙,以復歸元時空、元敘事、元語言再出發的「一期一會」行動,以跨領域、跨學科、跨專業復歸無遠弗屆,以之合現場、煉邏輯、促思行的文藝實踐倡議。
「復歸」的四個價值維度:
歷史之定命、自然之要求、人性之反映、知識之邏輯。
復歸的行動組織倡議:
共情而自發(和光同塵)、共生而自主(立本生道)、共同而自由(聚沙現塔)。
復歸是基於各同好自發的「共情倡議」,和光同塵以直面時空場域,匯聚時代精神與社群民間的共情倡議;
復歸是基於各同仁自主的「共生倡議」,立本生道以鏈接破碎時空,反思知識邏輯與場域眾生的共生倡議;
復歸是基於各同志自由的「共同倡議」,聚沙現塔以護生多元交融、助力思慮相和到實踐相合的共同倡議;
自發而共情,思共情者同願;自主而共生,願共生者同志; 自由而共同,志共同者同行。
How do knowledge and experience inform our lives? By what inner rules of life do they transform it into a form of flourishing and come to be revised? REVIVAL asks these questions of us. An initiative of non-profit, government-affiliated, and academic institutions, as well as individuals, REVIVAL is dedicated to the renewal of the ecology of community and cultural and spiritual revitalization of the people.
REVIVAL is also an artistic and cultural return to Hongmeng, our origin. We return by way of time and space, narratives, and language, attentive to these means, and, launched from an expectant and open desire, arrive once more at a meeting of the minds. We return, crossing disciplines and professions, to that which is impossible to return. We return to practice an art and a literature that motivate, suited to our locales and perplexing our logic.
Four Academic Values:

Fate of History, Demands from Nature, Response of Humanity, Logic of Knowledge
Cooperative Initiatives:

Empathic and Voluntary, Symbiotic and Autonomous, Harmonious and Diverse
REVIVAL is an initiative based on fellow feeling—built by those with common interests who chose to come together, doing so in deep sympathy—which intimates, as light that radiates and dust that diffuses to permeate a field of space in time, the spirit of the times of a community.
REVIVAL is an initiative to live and let live. It asks us to see our shared needs as the foundation for flourishing and to connect, so as to break down unnecessary barriers. It invites us to reassess whether established patterns of thought and reasoning still benefit people.
REVIVAL is an initiative to be together freely. If as children who mass sand to mold towers, diverse people associate, all intent on valuing life, they will be mindful to harmonize their deliberations so as to harmonize their practices.
To sense empathy in ourselves is to witness our common human yearnings. To build a life together, yet do so as autonomous, self-determining beings, is to understand that common yearnings lead to a common vision. To be together in each other's presence, and free, is to be reminded that those who share a common vision may yet flourish together.