《社區公共藝術與社區營造 – 以成都為例》 – 胡燕子|"Community Public Art and Community Cultivation – Chengdu " – Yanzi Hu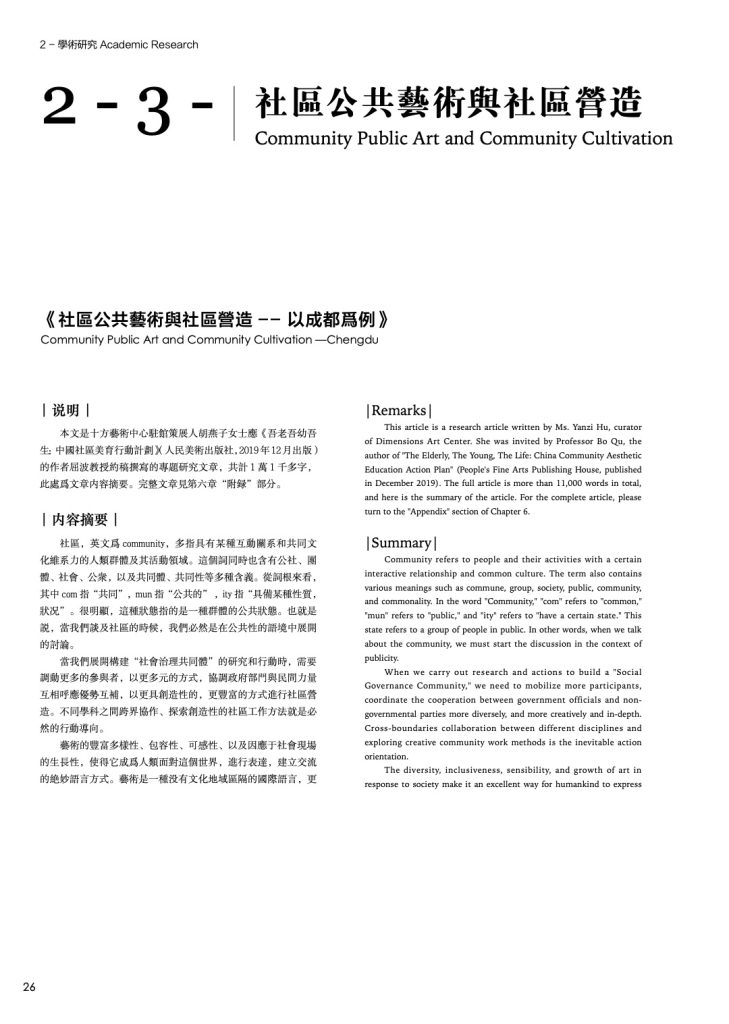 |說明|
本文是十方藝術中心駐館策展人胡燕子女士應《吾老吾幼吾生:中國社區美育行動計劃》(人民美術出版社,2019年12月出版)的作者屈波教授約稿撰寫的專題研究文章,共計1萬1千多字,此處為文章內容摘要。完整文章見第六章「附錄」部分。
|Remarks|
This article is a research article written by Ms. Yanzi Hu, curator of Dimensions Art Center. She was invited by Professor Bo Qu, the author of "The Elderly, The Young, The Life: China Community Aesthetic Education Action Plan" (People's Fine Arts Publishing House, published in December 2019). The full article is more than 11,000 words in total, and here is the summary of the article. For the complete article, please turn to the "Appendix" section of Chapter 6.
|內容摘要|
社區,英文為community,多指具有某種互動關係和共同文化維繫力的人類群體及其活動領域。這個詞同時也含有公社、團體、社會、公眾,以及共同體、共同性等多種含義。從詞根來看,其中com指「共同」,mun指「公共的」 ,ity指「具備某種性質,狀況」。很明顯,這種狀態指的是一種群體的公共狀態。也就是說,當我們談及社區的時候,我們必然是在公共性的語境中展開的討論。
當我們展開構建「社會治理共同體」的研究和行動時,需要調動更多的參與者,以更多元的方式,協調政府部門與民間力量互相呼應優勢互補,以更具創造性的,更豐富的方式進行社區營造。不同學科之間跨界協作、探索創造性的社區工作方法就是必然的行動導向。
藝術的豐富多樣性、包容性、可感性、以及因應於社會現場的生長性,使得它成為人類面對這個世界,進行表達,建立交流的絕妙語言方式。藝術是一種沒有文化地域區隔的國際語言,更是在社區工作中可以研究借鑒的重要方法。
通過藝術項目的開展,讓整個城市的生活與秩序成為待定的場域,以藝術家與社工的共同工作,聯動城市居民們的參與,探索更多更豐富的公共空間,讓空間隨時隨地被創造、被轉換、被呈現。
公共藝術在社區營造工作層面,可以通過社區空間營造、社區關係營造、社區故事營造、社區審美營造四大方面來回應具體的工作需求。公共藝術活化公共空間,公共空間創造公共關係,在這樣的背景中,城市裡的社群關係得以重塑。
社區工作的一大特點就是根據現場進行不斷的動態調整,那麼在社區里的藝術節策劃也是需要面對具體的社區特點開放協調動態調整的。一個科學專業的組織結構和工作機制是社區公共藝術節得以順利開展的基本保障。在實際的操作中,藝術節的策劃和落地推進工作一旦正式開始,其工作運轉就如同一個精密的儀器,需要所有工作者明晰自己的工作角色,按時高效的完成自己的工作,同時保證準確和專業度,任何環節出現疏漏,都會牽一髮而動全身,因此工作組成員在「各盡其責」之外,還要有「靈活補位」的綜合能力。
|Summary|
Community refers to people and their activities with a certain interactive relationship and common culture. The term also contains various meanings such as commune, group, society, public, community, and commonality. In the word "Community," "com" refers to "common," "mun" refers to "public," and "ity" refers to "have a certain state." This state refers to a group of people in public. In other words, when we talk about the community, we must start the discussion in the context of publicity.
When we carry out research and actions to build a "Social Governance Community," we need to mobilize more participants, coordinate the cooperation between government officials and non-governmental parties more diversely, and more creatively and in-depth. Cross-boundaries collaboration between different disciplines and exploring creative community work methods is the inevitable action orientation.
The diversity, inclusiveness, sensibility, and growth of art in response to society make it an excellent way for humankind to express themselves and establish communication. Art is an international language without cultural and geographical divisions, and it is an important method that can be studied and used in community work.
Through art projects, the entire city's livelihood and order will become a field to be determined. With the joint work of artists and social workers, urban residents' participation will be linked to exploring more abundant public spaces, so that new spaces can be created anytime, anywhere.
Public art can respond to specific work needs at the community operation aspect through four aspects: community space creation, community relationship creation, community story creation, and community aesthetic creation. Public art activates public space, and public space creates public relations. In this context, social relations in the city can be reshaped.
A major feature of community work is the continuous dynamic adjustments based on society. The community's art festival planning also needs to be open, coordinated, and dynamically adjusted in the face of specific community characteristics. A scientific professional organizational structure and working methods are the basic guarantees for the community public art festival's development. In actual operation, once the planning and implementation of the art festival officially start, its work will behave like a sophisticated instrument, requiring all workers to clarify their job roles, complete their work on time and efficiently, while ensuring accuracy and professionalism, any omission in any part of the work will cause the whole work to be affected immediately. Therefore, the members of the working group must have the comprehensive ability of "flexibly fill up positions" in addition to "fulfilling their responsibilities."